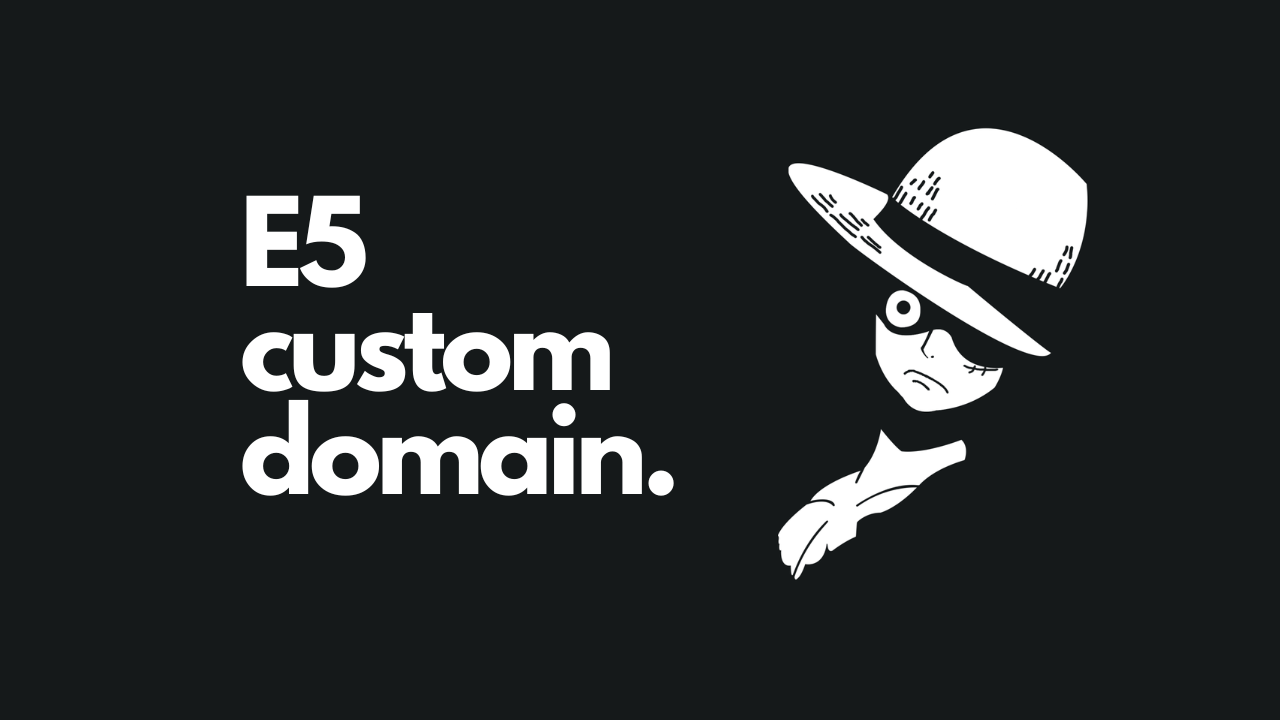 #
Microsoft E5 Custom Domain
Get your shiny custom domain for your E5 developer account.
#
Steps:
Make sure you have your E5 developer account set up.
If you haven't then follow this guide: E5 Guide
#
1. Get your domain
Go to this website and sign up.
Click New Domainand fill up the domain name you want. Example: something.eu.org
Check server names for the Check for correctness of: and set NS1.HE.NET for Name1, NS2.HE.NET for Name2, and accordingly for NS3.HE.NET, NS4.HE.NET, NS5.HE.NET.
We will be changing this to cloudflare nameservers so it won't actually matter what you put here as long as they are valid nameservers.
Wait for 24hours (i think), or few days to get the domain registered. You will receive an email when that happens.
#
2. Cloudflare Setup
Add your website to cloudflare and change your nameservers to the ones provided by cloudflare.
It might take an hour or so for your domain to appear in cloudflare.
#
3. Mircosoft Admin Center
Go to your admin center and to this page: Manage Domains
Click Add a new domain and add your new something.eu.org domain there.
It will now ask you to verify your domain. Choose the first option aka Add a TXT record to the domain's DNS records.
#
4. Back to cloudflare
Go to DNS management for your website. Add a new new record with TXT as type, @ as name and MS=ms######## (unique ID from the admin center) as your content. Set TTL to 30min.
#
5. Validate your TXT Record
You can use this website to validate if TXT record has been updated.
After adding those records, click verify and it should do so without errors.
#
6. More DNS setup
The instruction on the microsoft page can be misleading/confusing. So follow these instructions.
Assuming my domain is something.eu.org, the page will ask you to add something as your host name, but literally adding something will give you error like We didn't detect that you added this record. We are supposed to use @ for this case in the host name.
MX Record

Go to the DNS management and add a new record. Use MX as type, @ as name, and copy the "Points to address or value" value in your microsoft page and use it as content. Set 0 for priority and 1hr for TTL.
CNAME Record

With CNAME as type for a new record, set the autodiscover as your name, autodiscover.outlook.com as your target and 1hr for TTL.
This value is same for everyone.
Make sure to set the Proxy Status as DNS only.
TXT Record

Add a new record. Use TXT as type, @ as name, and copy the TXT value (it should be v=spf1 include:spf.protection.outlook.com -all) in your microsoft page and use it as content. Set TTL to 1hr.
#
7. Done
Enjoy using your custom domain.